Thanh Ngo is a licensed Real Estate Agent and is the Principal of Ray White Forest Lake.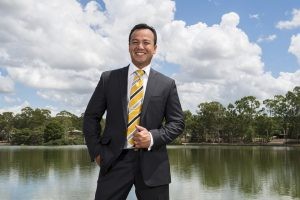 Thanh's passion for real estate was bred from an early age when he use to watch Real Estate property market TV shows in the early hours of the morning before school started in primary school. Beginning his real estate career in 2003 with Ray White Goodna and Ray White Sunnybank. Thanh has been marketing and auctioning properties specifically in the South West corridor of Brisbane and the Ipswich area for more than 10 years.
After a successful introduction into the industry, Thanh always had the desire and determination to open and run his own business in an industry he loved. The opportunity presented itself in 2010.
An enthusiastic and motivated individual, Thanh's excellent communication skills and organisational abilities have enabled him to establish great rapport and on-going relationships with Government bodies, Building companies, vendors and buyers alike. Dedicated to providing the best service possible and achieving optimal results, Thanh's approach is focused on integrity and commitment while his personable nature enables him to connect with people across all walks of life.
A life-long resident of the South West regions of Brisbane and Ipswich; with exceptional local market knowledge, he is fully aware of its innate nuances. Investors and home purchasers alike can rest assured that he is able to provide professional recommendations and targeted advice. A solutions-based approach backed up by his strong marketing skills and access to cutting-edge technology applications enable Thanh to structure a tailored, results-driven campaign for each individual client.
Thanh's negotiating skills combined with his high level of communication, commitment; energy and focus are key factors in Thanh's ongoing success.
Thanh Ngo
Mob: 0412 006 147
Ph: 07 3879 6777
Fax: 07 3879 2011
Email: thanh.ngo@raywhite.com
FB: www.facebook.com/RWForestLake